The SKS Technologies team took out the award for best medium-sized commercial project in a competitive field and will now progress to the National Electrical and Communications Association's national awards in November.
As part of its impressive architectural lighting package, the team installed 350m of linear LED and 173 linear spotlights to the external façade of the station, along with a large array of lights throughout the main concourse and upper ramps, highlighting its nibs, niches and ceilings.
"An extensive architectural lighting package [was] implemented on the external facades to improve the night-time visual appearance, highlighting the heritage grandeur of the building and to create a strong presence on North Tce," SKS Technologies General Manager Western Region, Sam Nelson, said, reflecting on his team's win.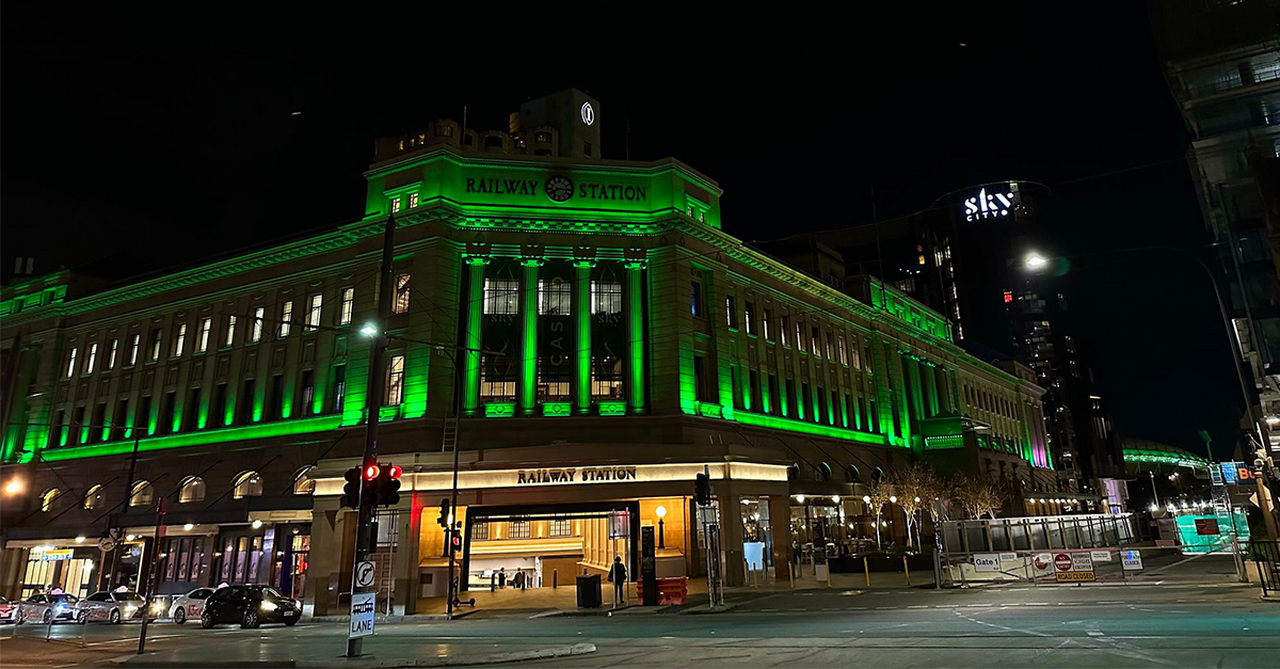 Meanwhile, excellence in the delivery of the revived station has also been recognised with two nominations in the upcoming Australian Institute of Project Management's Project Management Achievement Awards.
Finalist RPS Superintendent played a key project management role in overseeing the station's façade restoration and rejuvenation. Works included street level upgrades and public realm – all whilst the station continued to function as a public transport hub - and the careful and complex repair of the building's exterior with sympathy to its historical significance and rich history.
Also being acknowledged at the same ceremony in November are project managers Mott MacDonald, which were integral in the delivery of the new northern station entrance – not to mention another distinguished city project - Festival Plaza.
Mott MacDonald brought together multiple private and public sector agencies to ensure all elements of the Festival Plaza project were reflective of the opportunity to create an exemplar public space, while remaining sensitive to the existing culture and heritage of the space.
Improved links between Adelaide Festival Centre, Parliament House, Adelaide Railway Station, and the River Torrens Footbridge now make the space a world-class destination.
Both the Railway Station and Festival Plaza have been transformative in activating the north-west pocket of the city leading from North Tce down to the Karrawirra Pari (Riverbank) precinct.
Established in 2000, the Project Management Achievement Awards exist to recognise, honour, and promote outstanding achievements in program and project management by project professionals and organisations.
Its 10 award categories highlight distinction in areas including construction/engineering, government, ICT/telecommunications, transformation, regional, and sustainable projects.
State winners will progress to the national awards in March 2023.
Renewal SA City Projects Development Manager Adey Brecknock congratulated both finalists on their nomination and their commitment to achieving project excellence.