The state government is seeking a visionary developer to transform one of its largest broadacre landholdings in Aldinga into a sustainable master planned residential community and set a benchmark for future urban development in the south.
The release-to-market of 60-hectares of greenfield land bound by Main South Road, Aldinga Beach Road, How Road and Quinliven Road represents a significant development opportunity that will support projected population growth in one of the fastest growing regions in the state.
Renewal SA Chief Executive Chris Menz said that Aldinga has been through a period of strong growth and is now a thriving township with an increasing need for housing supply.
"We are seeking an experienced development partner with the capability and vision to build on the existing amenity at Aldinga and support its long-term growth and prosperity," he said.
"This new master planned community will need to reflect Aldinga's existing character, encompass exceptional sustainable design features and deliver a diverse range of housing types and price points to facilitate choice and affordability."
It is envisaged that the site will support approximately 1,000 low-to-medium density dwellings and achieve a minimum 5 Star Green Star Communities rating, denoting "Australian Excellence".
Future development is also expected to include high-quality open spaces and carefully managed interfaces with existing roads, schools and parks, building on recent investment in the area such as the Main South Road duplication project and Aldinga's new birth to year 12 school, Aldinga Payinthi College.
Importantly, the successful developer will be further required to achieve established targets around tree canopy, energy efficiency and water sensitive urban design and involve no less than five South Australian builders in the construction of dwellings throughout the life of the project to allow for housing diversity and equitable industry participation.
A series of work experience opportunities and one new apprenticeship/traineeship for high school students and Aboriginal or Torres Strait Islander job seekers will also be delivered on site by the successful developer as part of Renewal SA's Works Program.
An open market process is now being undertaken in two stages—a Registration of Interest followed by a Request for Proposal—to identify the best development partner to transform this large-scale site into an enviable extension of the Aldinga township.
The Registration of Interest stage opens today, with submissions invited from the development sector via the SA Tenders and Contracts website (tender code: URA050265) until Tuesday 30 November 2021 at 4.00pm (ACDT).
It is anticipated that the Request for Proposal process will commence in early 2022—at which point shortlisted proponents will be required to deliver a draft Master Plan for the site—and that the successful developer will be announced in the third quarter of 2022.
To date Renewal SA has engaged extensively with the community to bring this important site to market and shape its vision, having sought feedback throughout the structure planning process in 2019 and 2020.
The successful developer will be expected to continue engagement with the local community—including the traditional owners of the Aldinga land—and work with them to create culturally and naturally sympathetic spaces throughout the life of the development.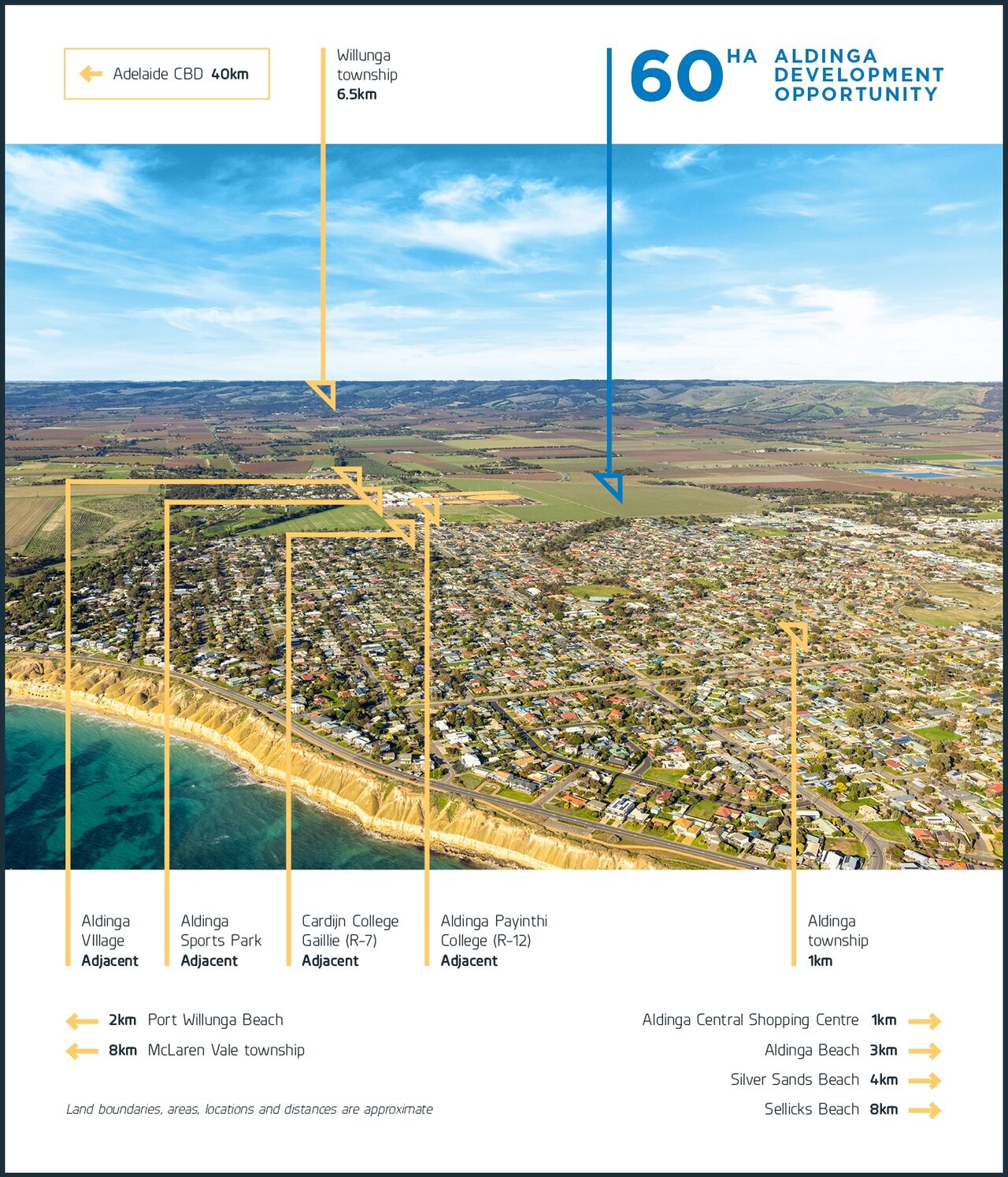 "As the South Australian Government's urban development arm, Renewal SA is responsible for supporting a strong economy through the creation of new communities that generate jobs and private investment in the property sector," said Chris.
"The land at Aldinga embodies this strategic vision and opens the door for the development of a high-quality, climate-smart neighbourhood that seamlessly extends the existing Aldinga township and contributes meaningfully to its future development and strong sense of place.
"We invite interested parties who wish to be a part of this opportunity to capitalise on the unique lifestyle that Aldinga provides and leave a lasting legacy in a much-loved part of southern Adelaide to lodge a submission at their earliest opportunity."
All enquiries regarding the initial Registration of Interest process for this development opportunity should be addressed in writing to:
James Juers
Director, McGees Property Adelaide
Mobile: +61 438 442 909
Email: [email protected]
or
Simon Lambert
Managing Director, McGees Property Adelaide
Mobile: +61 408 846 999
Email: [email protected]
About the site
The site is a 60-hectare greenfield land parcel in the City of Onkaparinga, nestled between the sea and the vines of the Willunga Basin and in enviable proximity to iconic Port Willunga beach, McLaren vale wine region, Aldinga's gentrified town centre, Aldinga Central Shopping Centre and some of Adelaide's best diving and tourist spots.
The site is approximately 40 kilometres from Adelaide's CBD.
Historically used for agricultural purposes and owned by farmers from the early 1900s, the site was purchased by the state government in 1989 as part of metropolitan Adelaide's future land bank and is currently leased for cropping.
It has since been rezoned from Deferred Urban to Master Planned Neighbourhood Zone, which supports the creation of new or expanding communities that offer a diverse range of housing within easy reach of services, facilities and open space.