The inaugural yarning circle saw Kaurna leaders, including Elder Uncle Rodney O'Brien, joined by representatives of Renewal SA and Villawood Properties, for a campfire-style discussion at the site of Villawood's new residential development, Oakden Rise.
The intimate gathering, amongst native gum trees along Grand Junction Road, explored the Kaurna history of the area, and aims to broaden engagement on, and inclusion of, First Nations culture into the planning of the 1500-home development.
Villawood's project partners, including landscape architect GD Studia, were also present for the 90-minute session, using the learnings and stories shared to influence and inform their design choices across the project.
These new cultural understandings will go on to serve as a broader educational piece for developers, contractors and future residents - presented during on-site inductions for all tradespeople, and as part of welcome material to new residents, so they establish immediate connections to the land on which they will work and live.
The yarning circles are expected to take place quarterly across new and existing Renewal SA projects.
"This is a progression from using Aboriginal place names throughout our development projects. It's about having an open and honest conversation about First Nations history and highlighting the significance of that history and the important role we all play in ensuring these stories are passed on as we welcome new communities onto the land," Renewal SA Reconciliation and Cultural Heritage Manager Kyran Dixon said.
"We want everyone to have pride in our shared history and it's hoped that by developers reflecting our spiritual connection to the land, residents will have an increased physical and emotional understanding which they can share with their family and friends, that then hopefully sparks broader discussions about Voice to Parliament and Treaty."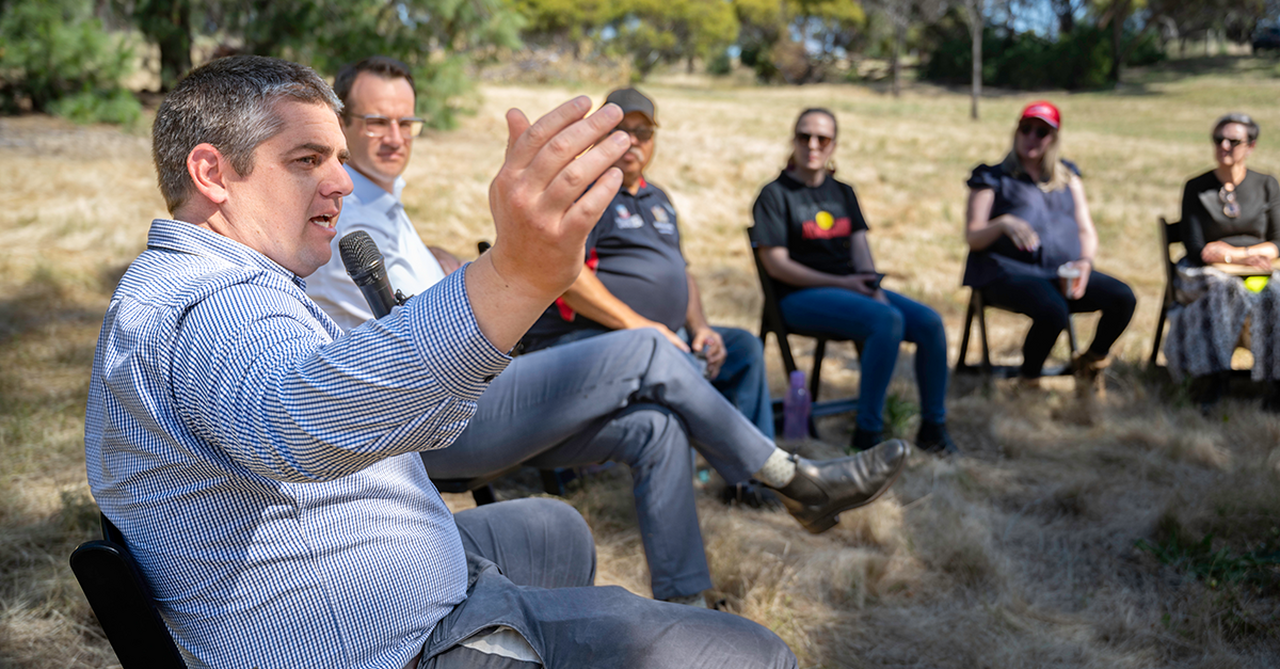 Villawood Properties CEO Alan Miller said weaving Kaurna stories and traditions into its new master-planned community, Oakden Rise, was an important part of developing the community's cultural fabric.
"We are really proud of our partnership with Renewal SA and are privileged to be the first developer to be involved in this unique storytelling exercise," Mr Miller said.
"Oakden Rise is quite distinct in terms of its landscape, so we want to retain those natural elements and enhance them through storytelling, so there is a community connection to Country from the outset.
"Our involvement in the Yarning Series is another way that we can continue to integrate First Nations Culture and Country across all of our projects and our business more broadly."
Renewal SA Chief Executive Chris Menz said the state's urban renewal authority was committed to becoming a leader of reconciliation within South Australia's property and development sector.
"We represent an industry inescapably tied to land," Mr Menz said.
"Each of our projects is located on land that has been nurtured by First Nations peoples for thousands of years, so we have a responsibility to lead by example and drive reconciliation within our industry to generate meaningful social, cultural and economic change.
"For our organisation, reconciliation isn't simply about respecting culture, it's also about making it a part of our everyday operation including planning, urban design, project development, affordable housing, job creation, work experience and industry partnerships. We want our commitment to be demonstrated through action and go beyond just meeting legislative requirements.
"It is our hope that private developers will follow suit, and this truth-telling becomes business as usual."