Renewal SA will purchase the former Adelaide Bus Station site on Franklin Street as part of an ambitious plan to deliver unparalleled levels of affordable housing to Adelaide's CBD.
The precinct, to be known as Tapangka, will shift the dial on urban living in Adelaide, offering a blend of long-and-short term housing options and contemporary commercial, civic and retail spaces.
These dynamic spaces will be attractors to the city, increasing visitation and nourishing surrounding businesses, as well as being complementary extensions of the Adelaide Central Market experience.
Renewal SA will act as master developer of the 6850sqm site after being chosen as the successful proponent by the Adelaide City Council, which put the high-profile city site out to market last year.
1,000-plus residents will join the much-loved market district, living across two mixed-use towers that will house around 392 apartments. At least 137 (35%) of these will be affordable, including 51 affordable sale apartments and 86 affordable rental apartments.
The precinct will also include a 208-key hotel to accommodate regional, national and international visitors and will be the first CBD location to feature the emerging build-to-rent apartment model.
The new approach to city living – which caters for the immediate and future need of a broad range of people - is inspired by the experience of going on a journey: a journey of reconciliation, a journey of home ownership, a journey towards sustainability and a journey of collaboration between the city and the state to achieve the best outcomes for the community. In Kaurna language, this experience is known as Tapangka (Ta-pun-ka).
The bold vision for Tapangka puts the human experience at the heart of the built environment and aims to create a lifestyle offering that positions it as one of the most vibrant and inclusive residential developments and precincts in the state.
A central civic building will be a place of entertainment, culture and community, and a showcase of the very best of sustainable construction within a development that is targeting carbon neutrality precinct-wide. This aims to be achieved via the use of sustainable building materials, reduced energy consumption and through the promotion of clean transport options and electric vehicle usage.
A network of tree-lined laneways or 'eat streets' will spill out onto the footpaths between Franklin and Grote streets, offering a combination of casual eateries and sit-down restaurant options both day and night. They will be surrounded by a backdrop of living green walls that will provide shade and cooling and mitigate the impacts of the heat-island effect.
Public open space owned by the City of Adelaide along Grote and Bowen streets will undergo a $1.2 million upgrade by the state as part of the development in addition to extensive public art throughout Tapangka. The celebration of Kaurna culture will also be a significant feature of Tapangka's identity.
The multi-million-dollar development will become a significant jobs driver for South Australia. During the construction period alone, Tapangka is expected to generate 1,300-plus jobs and contribute more than $161 million of Gross Value Add to the state.
Minister of Housing and Urban Development Nick Champion said the thoughtful integration of attractions, connections, housing variety and public realm would elevate Adelaide's reputation as a lifestyle capital.
"This city-defining project, driven by affordable housing, will open the door to inner city living for South Australians who find themselves locked out of a market under significant pressure," Minister Champion said.
"We are bringing the Build-to-Rent model into the CBD for the first time, providing another way to help address housing shortages and ease the rental squeeze."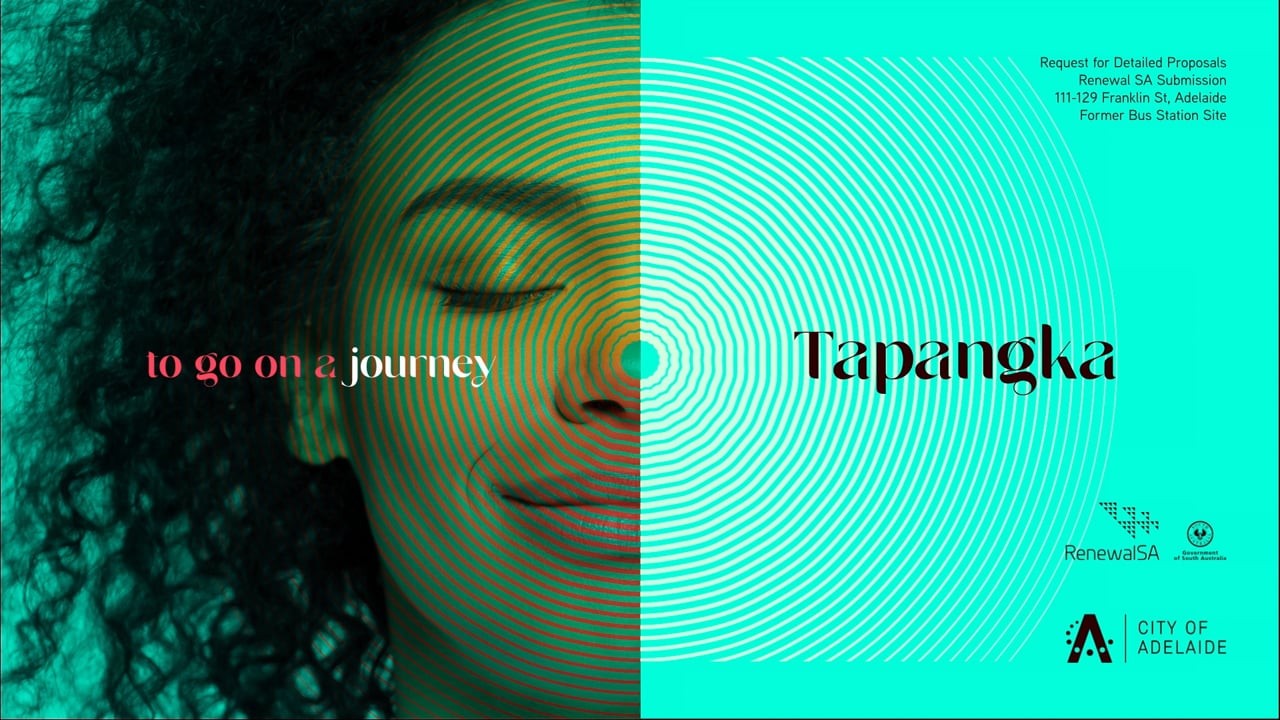 Tapangka - proposed Renewal SA development video
As part of the proposed deal, the City of Adelaide will retain use of the site until the end of 2025 allowing for the continued, short-term provision of on-site car parking during the core redevelopment phase of the nearby Central Market Arcade.
City of Adelaide Lord Mayor Jane Lomax-Smith said Council's desired outcomes will all be achieved within the redevelopment.
"The State Government's proposal will help accelerate investment and growth within our city," Cr Lomax-Smith said. "Adelaide needs more affordable housing, so I'm pleased this plan includes 35 per cent affordable housing, more than double the 15 per cent requirement – as well as build-to-rent apartments and an opportunity for investment in community space.
"There will also be space for retail and hospitality outlets, and a mixed-use development, which will no doubt enhance and support the much-loved Market District."
Renewal SA has a legacy of city-shaping projects and proven experience in master developing precincts of scale including urban infill redevelopment at Bowden, and the adaptive reuse of the former Mitsubishi car plant in Adelaide's south to create Tonsley Innovation District.
Renewal SA Chief Executive Chris Menz said the agency would continue to undertake significant engagement with First Nations people to deliver the Tapangka vision and draw on the very best talent the development sector had to offer.
"This is a significant economic opportunity and a chance to set a new benchmark for inner city living so we need to enlist the most experienced and expert development partners from private industry, the not-for-profit sector, other levels of government and our First Nations people and local communities to participate in this project," Mr Menz said.
"Our key focus is to drive the long-term sustainability and prosperity of our capital and our state, and this is a substantial chance to revitalise a beloved part of our city by creating a thriving, multi-functional precinct that delivers high quality outcomes across a mix of housing, retail and commercial uses.
"The precinct will leverage Adelaide's new confidence and international outlook by being bold in design, unapologetic in purpose and wholly focused on making people's lives richer, easier and more connected - all the while targeting carbon neutrality."
Bringing stakeholders 'on the journey' via ongoing engagement will form a strong part of Renewal SA's governance over the Tapangka project and instil an early sense of local pride and ownership of the project.
Construction of the Tapangka precinct will be staged and is expected to commence in early 2026 with opportunities for designers, developers and builders to participate in the project. Project completion is anticipated by 2029.